C-Dit Home Data Entry Jobs 2021 – About Centre for Development of Imaging Technology (C-DIT)
Centre for Development of Imaging Technology(C-DIT) is a unique institution under Government of Kerala with diverse skill sets and achievements in the areas of Imaging Technology & ICT and their applications. Founded in December 1988 as an offshoot of Kerala State Film Development Corporation, C-DIT started its operations with two projects funded by the Government of India- one in the field of research and development in film and electronics technology and another in the area of science and development communication using video.
Subsequently, C-DIT diversified into Information Technology applications including software development and to providing IT enabled services. C-DIT has been functioning as a Total Solutions Provider in IT and Communication fields mainly in the Government sector for the last 30 years. We have also made our mark in the areas of education and training by offering a stream of courses in communication, new media production and I.T.
C-DIT Home Data Entry Jobs 2021 – Detail Notification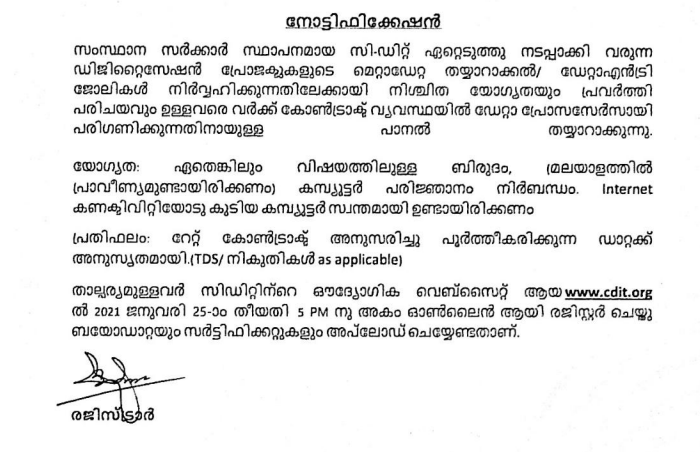 C-DIT Home Data Entry Jobs 2021 – Data processor- Job Description:
C-DIT has undertaken many massive digitization projects which includes scanning, graphic editing, meta data creation and data entry of meta data. To carryout the metadata creation and data entry in both Malayalam and English language, C-DIT desires to create a panel of eligible applicants. The empaneled applicants should have their own computer System with broadband Internet connectivity and may work from their own premises. They will be provided login credentials to access digitized copies of documents online. They shall read through the document and fill pre-defined metadata form pertaining to each file. The payment shall be released upon verification and acceptance of the meta data created as per the rate contract to be made between the Data Processor and C-DIT. This being a work contract, TDS as applicable, will be deducted from the payments made to the Data Processors.